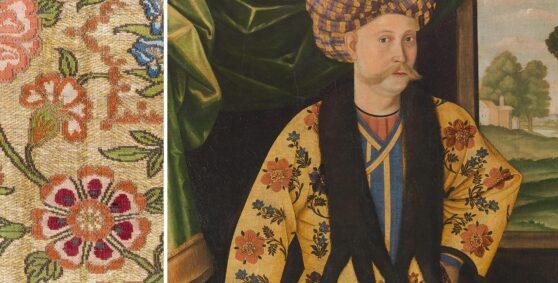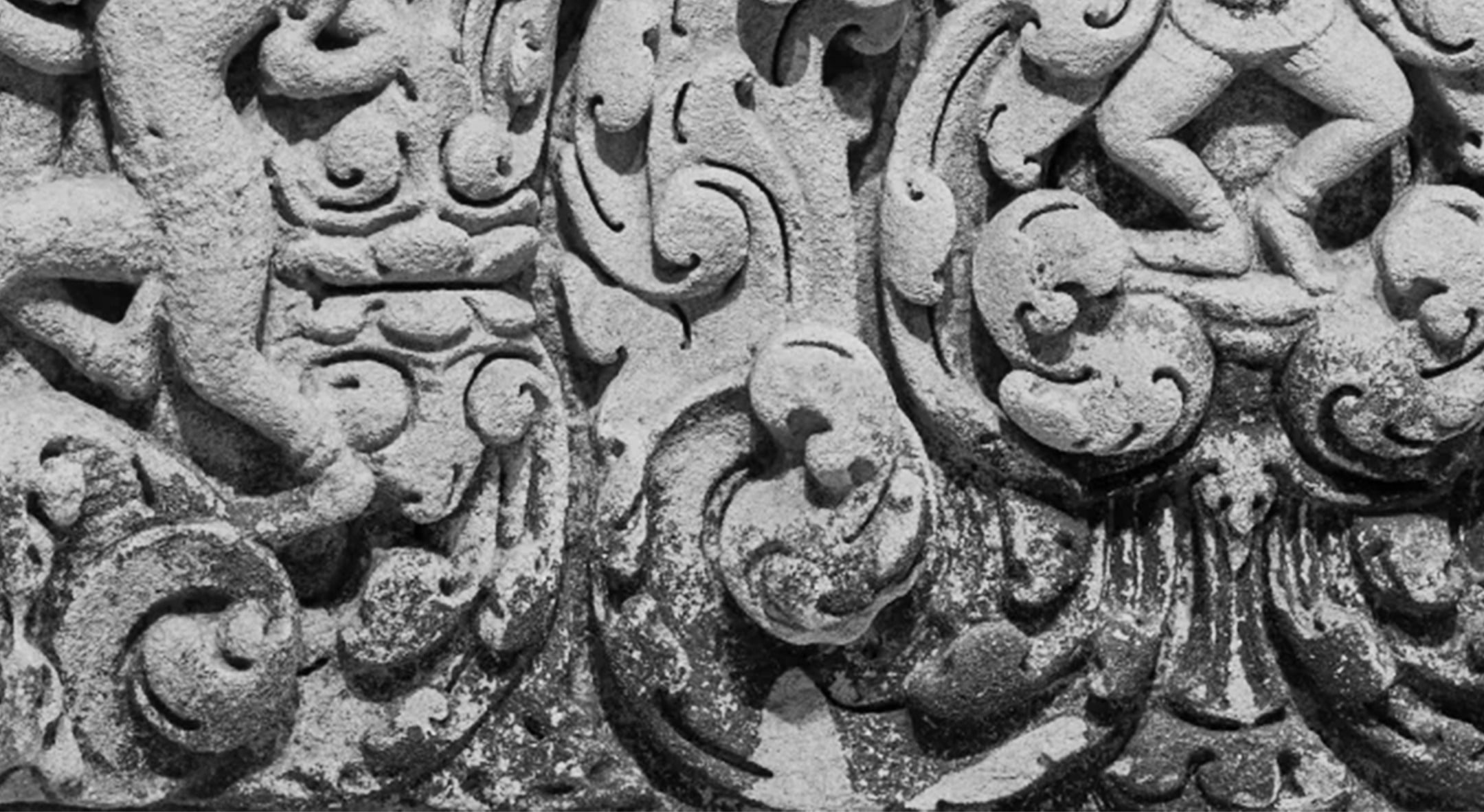 With their sumptuous surfaces, original designs, and technical sophistication, luxury textiles played a critical role in the social, cultural, religious, and economic life of Safavid Iran (1501–1722). Used for clothing, furnishing, and movable architecture, fabrics also functioned as important symbols of power and as ubiquitous forms of artistic expression. In the seventeenth century, they became the most lucrative economic commodity in Iran and were exported by land and sea to both Europe and the East, generating tremendous wealth and prosperity for the Safavid Empire.
To celebrate the Qatar-USA 2021 Year of Culture, the Smithsonian's National Museum of Asian Art is collaborating with the Museum of Islamic Art in Doha, part of Qatar Museums, on an exhibition focusing on a selection of extraordinary seventeenth-century textiles and full-length portraits from Safavid Iran. Fine illustrated manuscript folios from our collections are also included in the exhibition.
---
This exhibition has received generous financial support from the Museum of Islamic Art, Doha and Qatar Museums in celebration of the Qatar-USA 2021 Year of Culture.
Gentleman with a Cane
Whether representing a European envoy or a Georgian or an Armenian merchant, this Safavid oil portrait is remarkable for the sensitively rendered figure and the artful blend of Safavid and European aesthetics. Leaning on a walking stick and accompanied by a small white dog, a popular import, the man stands in an empty room with a window opening to a bucolic, receding landscape. From head to toe, he is dressed in the latest Safavid fashion. His fur-trimmed coat recalls the palette and design of the silk fragment on the adjacent wall, and his turban is of the popular checkered cloth seen on figures in other artworks on view. The man's identity may not be known, but he is clearly comfortable in both the Safavid and European worlds.
Portrait of a Gentleman
Iran, Isfahan, Safavid period, ca. 1650–1675
Oil on canvas
Museum of Islamic Art, Doha
PA.2.1997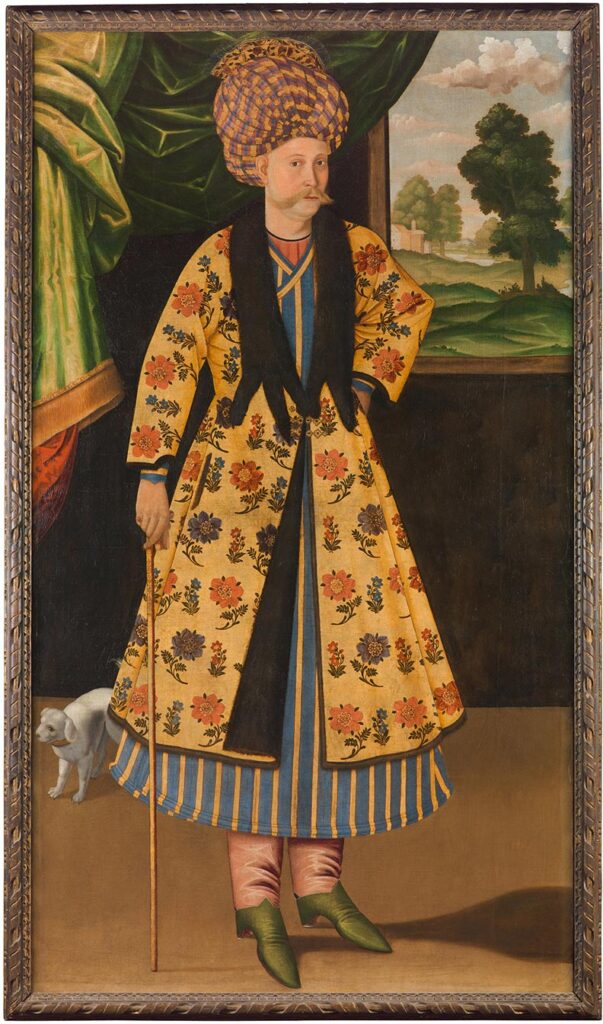 Flowers on Gold
This remarkably well-preserved fragment integrates Safavid taste for abstraction and Mughal interest in naturalism. Recognizable flowers, such as irises and carnations, are combined with more stylized types against a sumptuous gold ground. To achieve the luminous effect, gold foil was used in the weft (horizontal threads) of the fabric. The cloth's stiffness meant that it was used for garments, especially coats and robes of honor. The Safavid capital of Isfahan was particularly known for such gold-brocaded silks (zarbaft)—the costliest and most fragile type of silk fabric.
Textile
Iran, Safavid period, 1700–1722
Silk brocade with metal-wrapped threads
Museum of Islamic Art, Doha
MIA.2014.282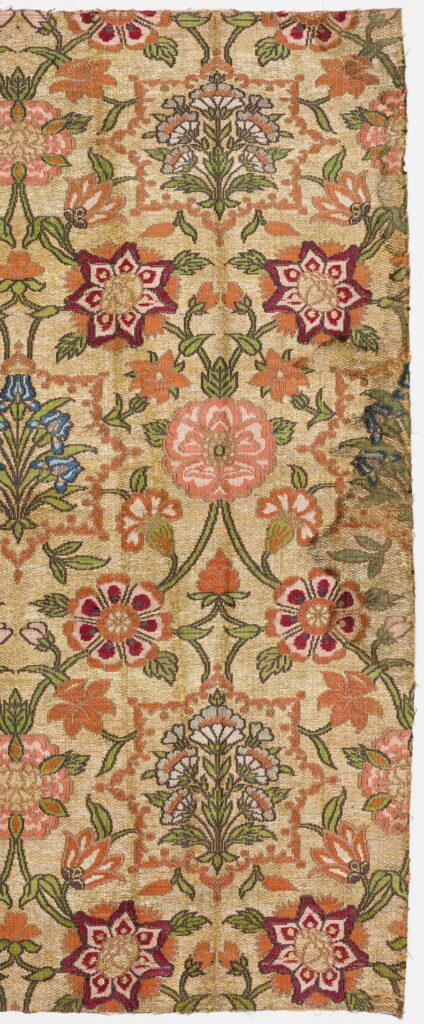 Tents in the Wild
Bustling with activity, the rocky landscape in this sixteenth-century painting is studded with four tents. The two pitched in the foreground are particularly noteworthy for their brilliant hues and animated designs. A dragon menacingly eyes a phoenix as it slinks about the domed roof of one tent, while the interior fabric of the adjacent tent is covered with nervously hovering angels. The agitated figures seem almost alive, as if they are about to lift off the fabrics, but similar, more stylized designs often embellished Safavid fabrics and carpets, lending them a distinct vibrancy.
Qays (Majnun) first glimpses Layli
From a copy of the Haft awrang (Seven Thrones) by Jami (d. 1492)
Iran, Safavid period, 1556–62
Opaque watercolor, ink, and gold on paper
Purchase–Charles Lang Freer Endowment
Freer Gallery of Art
F1946.12.23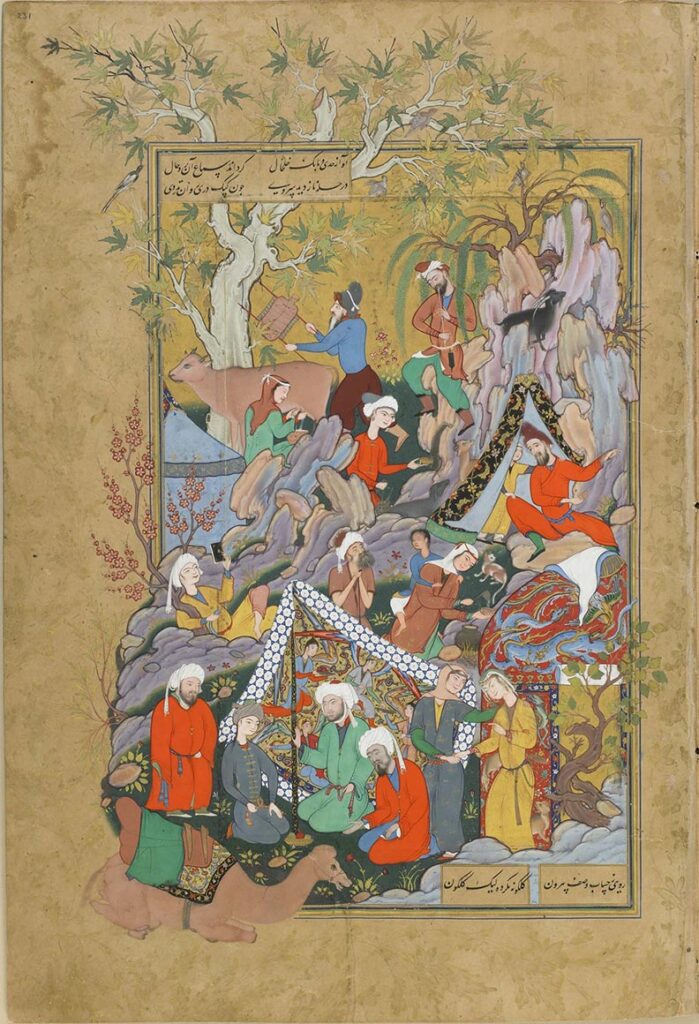 Isfahan Dandies
One youth has casually tied his jacket over his shoulder. The garment appears to have been cut from gold-brocaded silk, similar to the examples on view. Embellished with different floral designs, the coats are trimmed in fur imported from Russia, further enhancing their sumptuousness. According to eyewitness accounts, only the wealthiest Safavids could afford such luxury.
Portrait of a Youth
Iran, Isfahan, Safavid period, ca. 1630–40
Opaque watercolor and gold on paper
Purchase—Smithsonian Unrestricted Trust Funds, Smithsonian Collections Acquisition Program, and Dr. Arthur M. Sackler
Arthur M. Sackler Gallery
S1986.302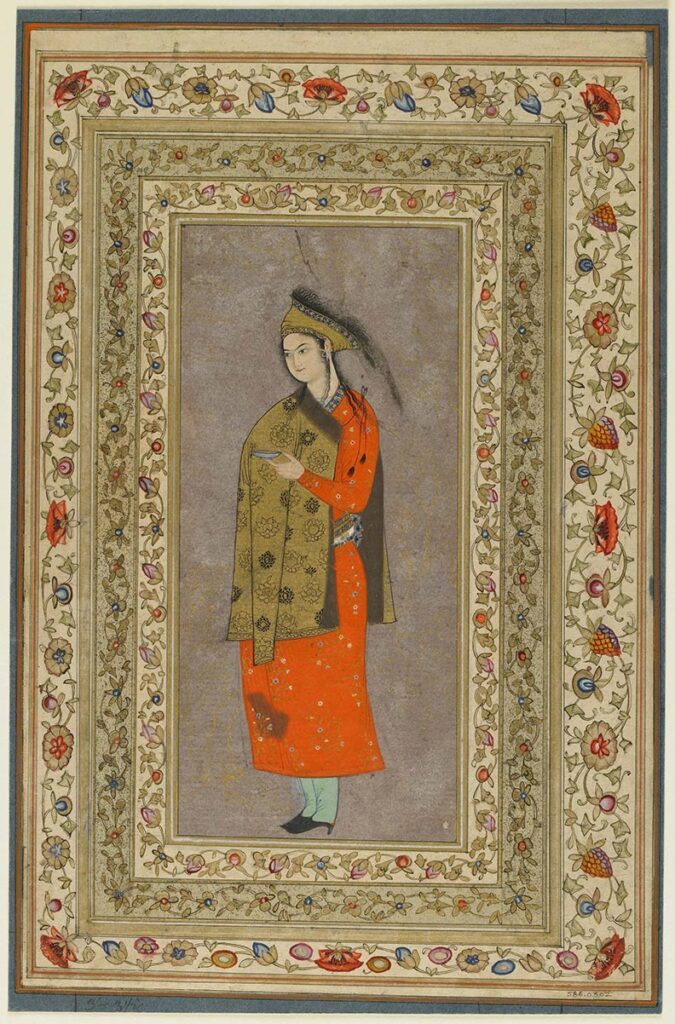 A Sign of Honor
In this masterfully composed painting, an elaborate encampment stands on the shores of a rushing river. The tented city is the chosen site for a reception to bestow a robe of honor to the Afghan Da'vud Khan for accepting Mughal sovereignty. Standing in the center of an enclosure, Da'vud Khan puts on a sumptuous gold coat as a sign of allegiance to his host, Mu'min Khan. The quality and fabric of a robe of honor were relative to the status of the recipient and the importance of his relationship to the donor.
Da'ud Khan Receives a Robe of Honor from Mun'im Khan
From a copy of the Akbarnama (Book of Akbar) by Abu'l-Fazl (d. 1602)
Attributed to Hiranand
India, Mughal period, ca. 1596–1600
Opaque watercolor and gold on paper
Purchase–Charles Lang Freer Endowment
Freer Gallery of Art
F1952.31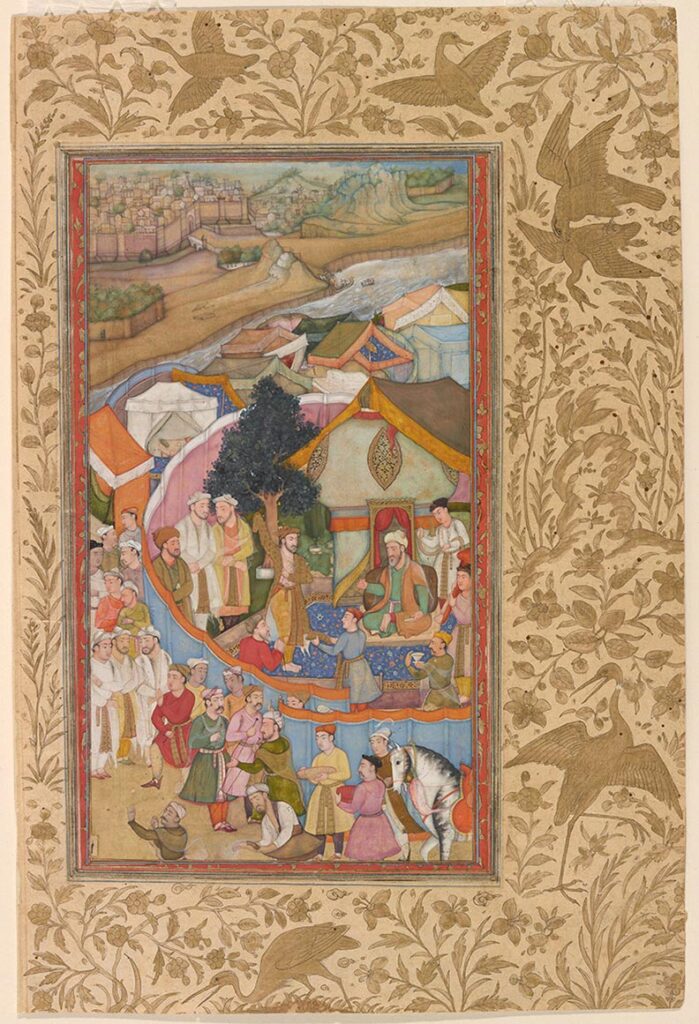 For Europe
By the seventeenth century, Persian carpets were among the most desirable luxury commodities in Europe, especially in Portugal. To compete successfully with Ottoman exports, the Safavids standardized their designs by combining palmettes with scrolling vines, curling lancet leaves, and stylized cloud bands derived from Chinese art. The main ground was usually red, surrounded by either blue or green borders. The popularity in Europe of such Safavid carpets meant that Mughal India also produced identical examples, complicating the process of identifying their origin.
Carpet
Iran, Safavid period, 17th century
Wool and cotton
Gift from the Trustees of the Corcoran Gallery (William A. Clark Collection)
Arthur M. Sackler Gallery
S2018.18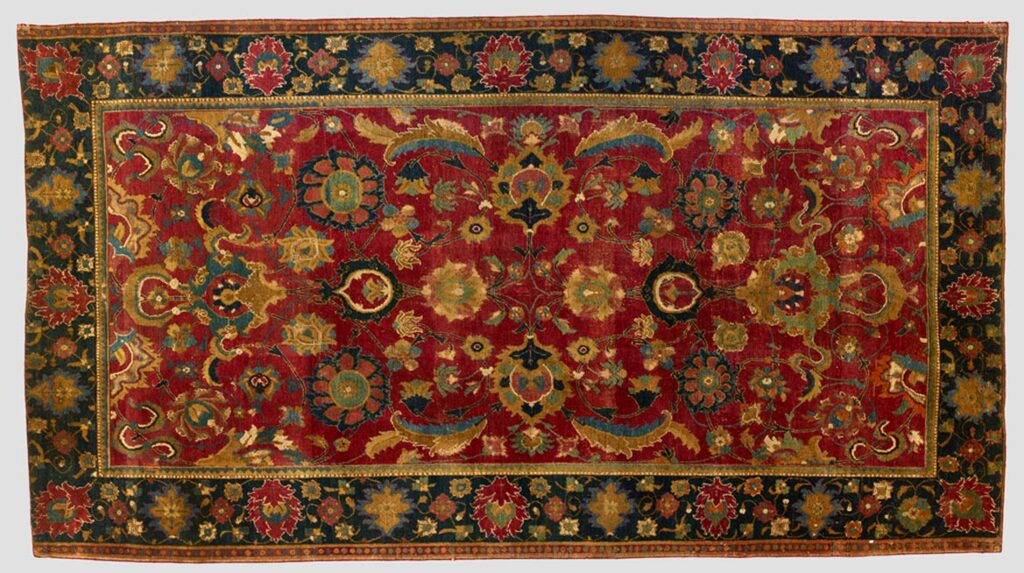 Female Power
Although idealized, this richly dressed woman must represent one of the wealthy Armenian families in the capital Isfahan. She wears a fine silver-ground brocaded robe with a sleeveless velvet coat, probably Italian in origin, and holds an elaborate Venetian wineglass. Her imaginary setting is equally grand, with Italian marble floors, an ornate column, and an extravagant vase, confirming Armenian familiarity with Western settings and accouterments. Recently, an almost identical version of this painting was identified in the Royal Collection, Great Britain (see photograph), suggesting that some of the Safavid oil portraits were done in multiples.
Portrait of an Armenian lady
Iran, Isfahan, Safavid period, ca. 1650–75
Oil on canvas
Museum of Islamic Art, Doha
PA.66.1998
Meet Me in the Garden
To produce brocaded velvets, weavers used a complex and time-consuming technique and created a variety of intricate patterns that were both repeated and staggered. The designs were also mirrored and reversed, generating variation on set compositions.
A stylized, elegantly dressed couple in a garden setting dominates the design of this velvet from the same fabric. The style of the figures' costume and headgear suggests the date from the third quarter velvets of the sixteenth century. Similar couples also appear in contemporaneous Safavid manuscript paintings, but in fabric, the composition offers a different array of surfaces: the couple and surrounding vegetation are in cut velvet, with uncut loops of silver thread for additional texture. Originally, the entire background was covered with thin strips of metal, which created a shimmering ground for the richly colored velvet. Such luxurious fabrics were also used as gifts for special envoys and dignitaries.
Textile
Iran, Qazvin, Safavid period, ca. 1575–1600
Silk brocade velvet with figures
Museum of Islamic Art, Doha
TE.9.1998.1 and TE.9.1998.2
Transmitting Blessings
With the establishment of the Safavid dynasty in 1501, Shi'ism became Iran's official religion. Reverence for the Prophet Muhammad's descendants as his legitimate heirs was reinforced in all media, including textiles. The large green cartouches of this cover as well as the narrower bands in black repeat invocations in Persian to the Prophet's grandson, Imam Husayn, and his martyrdom at Karbala in 680 CE. Both the darker and the red bands are inscribed with the first verse of the forty-eighth chapter of the Qu'ran, al-Fath (The Victory). Intended to affirm Shi'i affiliations, such textiles were used in Iran and were also sent abroad to important Shi'i shrines.
Textile with inscriptions
Iran, Safavid period, ca. 1700
Silk and metal threads
Museum of Islamic Art, Doha
MIA.2014.268