Starting with an Act of Faith
Charles Lang Freer founded our museum with a gift of his collection to the Smithsonian, including his library and archives. He also provided support for the construction of the building in addition to generous endowments so that his gallery would continue to foster an understanding of and appreciation for art. His gift was an act of faith: not only was the National Mall more of an idea than a reality in 1906, but Freer was giving over his life's work to a nation with little background in supporting arts and culture and to a Smithsonian that was, at that time, almost entirely devoted to science and technology, with no real experience in managing, conserving, or exhibiting world-class art. One hundred years after Freer founded a gallery to address challenges he cared deeply about, we're celebrating our centennial by asking questions our audiences are invested in. What does that mean in practice? We're building on our strengths—the quality and depth of our collections, scholarship, and conservation—while also moving in new directions, experimenting, and telling new stories. As the National Museum of Asian Art, we feel a special responsibility to be more accessible and legible to the public as we enter our second century.
The Arts of Devotion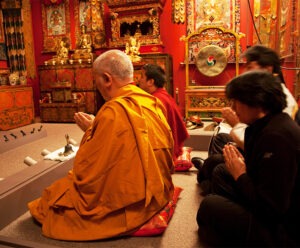 The Arts of Devotion is a five-year initiative at the National Museum of Asian Art that has been generously funded by Lilly Endowment Inc. The Arts of Devotion aims to further civil discourse around religion through the museum's collections of Hindu and Buddhist art and arts of the Islamic world. This project focuses on the religions of Hinduism, Buddhism, and Islam. These religions are living traditions that have origins in the broad geographic area of Asia and are now found globally, including in the United States. The Arts of Devotion initiative engages with communities from these religious traditions as well as with other key communities to help deepen our ability to tell stories with the art works that reflect them. With our wealth of resources and experience, the National Museum of Asian Art has a responsibility to step forward in these difficult times and assume a leadership role in the museum field. We must model how to further the public's understanding of Asian religions and encourage them to think more deeply about the artworks that reflect these religious practices and how these religions live on today.