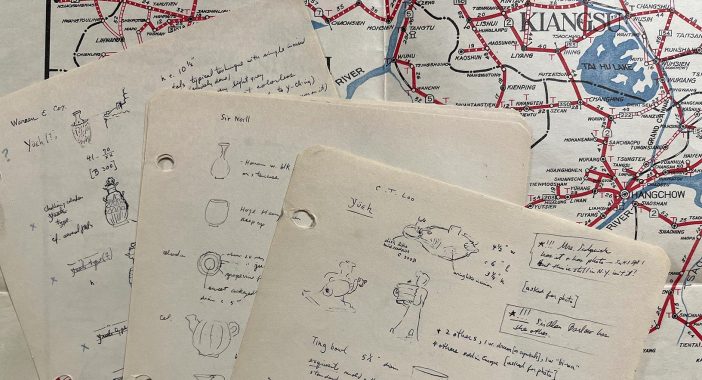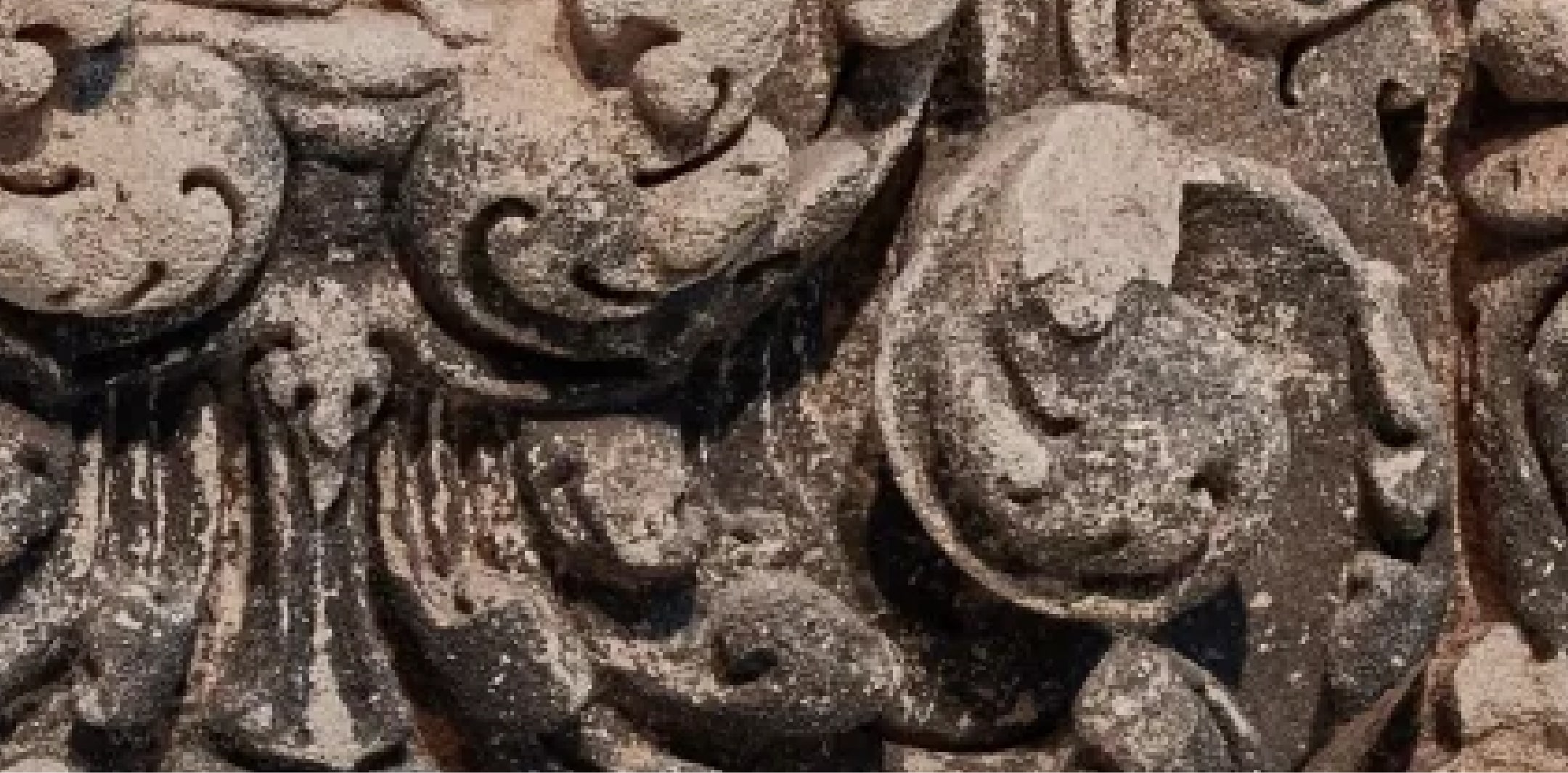 Wednesday, November 1, through Saturday, November 4, 2023
Washington, DC
Overview
Building on the momentum established by the webinar series, Hidden Networks: The Trade of Asian Art (2020-22) the Smithsonian's National Museum of Asian Art and the Prussian Cultural Heritage Foundation's Asian Art Museum and Central Archive are pleased to host an in-person symposium from Wednesday, November 1, through Saturday, November 4, 2023, in Washington, DC. For the first time, a global community of Asian art provenance researchers will gather to explore the complexities of the translocation of Asian Art and to discuss how best to research, share, and debate these histories. The symposium highlights provenance studies focused on East Asian, South Asian, and Southeast Asian art. The program will include both presentations and workshops to encourage interactive discussion and collaboration.
A keynote lecture will be given by Naman Ahuja, professor of Indian art and architecture at Jawaharlal Nehru University. This lecture is generously supported by the Macaulay Family Foundation.
The conference will be conducted in English.
This event is part of a larger collaboration between the Smithsonian Institution and the Stiftung Preußischer Kulturbesitz (Prussian Cultural Heritage Foundation) that seeks to cultivate the global network of provenance researchers and promote the exchange of information.
12–1 p.m.
Registration
1–2 p.m.
Opening Remarks

Chase Robinson (National Museum of Asian Art, Smithsonian Institution, United States)
Hermann Parzinger (Stiftung Preußischer Kulturbesitz, Germany)
Joanna M. Gohmann (National Museum of Asian Art, Smithsonian Institution, United States)
Christine Howald (Staatliche Museen zu Berlin – Stiftung Preußischer Kulturbesitz, Germany)

2–2:15 p.m.
Coffee Break
2:15–4:15 p.m.
Panel 1: Contexts of Translocation
Moderated by Esther Tisa Francini (Museum Rietberg, Switzerland)

Kexin Ma (SOAS, University of London, United Kingdom)
Back to the Yuanmingyuan: A Study on the Provenance and Provenience of the 'Guwan tu' Handscrolls
Henriette Lavaulx-Vrécourt (Ethnologisches Museum, Staatliche Museen zu Berlin, Germany)
The F.W.K. Müller collection in the Ethnological Museum Berlin
Markéta Hánová (National Gallery Prague, The Czech Republic)
Looted Asian Art in Prague: Ostasiatica and Graphische Sammlung of the Reich
Isabel Seliger (Independent Researcher, Germany)
The Collection of Khmer Art at the Tokyo National Museum
10–10:30 a.m.
Registration & Coffee
10:30 a.m.–12:30 p.m.
Panel II: Art Market Mechanisms
Moderated by Sarah Laursen (Harvard Art Museums, United States)

Paul Franke (Philipps University Marburg / Centre Marc Bloch Berlin, Germany)
Curio Shops, Collectors, and Imperial Competition – German Collecting Strategies and Practices of East Asian Art 1900-1942
Edmond de Taillac (Ecole normale supérieure, Paris, France)
The French Connection: C.T. Loo's Supply Networks in South Asia (1924-1929)
Wen-chien Cheng (Royal Ontario Museum, Toronto, Canada)
Collecting China at the Turn of the 20th Century: the George Crofts Collection at the Royal Ontario Museum
Alisha Sijapati (Central European University, Austria)
& Erin L. Thompson (City University of New York, United States)
Stella Kramrisch and the Creation of an American Market for "The Art of Nepal"

12:30–2 p.m.
Lunch Break
2–3:30 p.m.
Panel III: Research Methodologies
Moderated by Malini Roy (The British Library, United Kingdom)

Qamar Adamjee (National Museum of Asian Art, Smithsonian Institution, United States)
It's a Small World After All: Mapping Social Networks as a Research Method
Nataša Vampelj Suhadolnik (University of Ljubljana, Slovenia)
East Asian "Orphaned" Objects in Slovenia: The Challenges of Provenance Research and Possible Methodological Approaches
Tullia Fraser (University of Glasgow, United Kingdom)
East Asian Objects in Museums: Syncretic Approaches towards Provenance Research

3:30–5:15 p.m.
Workshop I: Networks of Exchange
6–7:30 p.m.
Keynote Lecture (reception to follow)
Repatriation: More than just a Shift in an Object's Location

Naman Ahuja, Professor of Indian Art and Architecture at Jawaharlal Nehru University, New Deli, India.

The keynote lecture and reception are generously supported by the Macaulay Family Foundation
10–10.30 a.m.
Registration & Coffee
10:30 a.m.–12.30 p.m.
Panel IV: Provenance in the Galleries
Moderated by Laura Vigo (The Montreal Museum of Fine Arts, Canada)

Melody Rod-ari (Loyola Marymount University, United States)
Locating Ban Chiang: The Repatriation of Thai Cultural Heritage
Ricarda Brosch (Victoria & Albert Museum, London, United Kingdom)
Communicating Provenance of Chinese Art & Design from the Summer Palace Yuanmingyuan to the Public: Histories and Future Perspectives from the Victoria & Albert Museum
Birgitta Augustin (Museum für Asiatische Kunst, Staatliche Museen zu Berlin, Germany)
Art Between War and Peace: Exhibiting Chinese art Through the Prism of Provenance
Ji Young Park (Denver Art Museum, United States)
Shared Culture, Manifold Provenance, and Nationalistic Audience

12:30–2:00 p.m.
Lunch Break
2–2:45 p.m.
Poster Session, Meyer Auditorium
2:45–5:00 p.m.
Workshop II: Platforms of Exchange
6–8 p.m.
Dinner (by invitation)
10–10.30 a.m.
Registration & Coffee
10:30 a.m.–12:30 p.m.
Panel V: Thinking Ahead
Moderated by Joanna M. Gohmann (National Museum of Asian Art) & Christine Howald (Staatliche Museen zu Berlin – Stiftung Preußischer Kulturbesitz)

Matt Cox (Art Gallery of New South Wales, Australia)
Artists as Provenance Researchers and the Case for Rematriation
Sonya Rhie Mace (Cleveland Museum of Art, United States)
Local Communities and the Protection of Monuments in Cambodia
Antonia V. Bartoli (Yale University Art Gallery, New Haven, United States)
Bringing a Goddess Home: A Provenance Research and Repatriation Case Study from the Yale University Art Gallery
Emiline Smith (University of Glasgow, United Kingdom)
A Pathway to Justice: The Return of Asian Material Culture, Human Remains and Intellectual Property 

12:30–1 p.m.
Closing Remarks

Joanna M. Gohmann (National Museum of Asian Art)
Christine Howald (Staatliche Museen zu Berlin – Stiftung Preußischer Kulturbesitz)

1–2 p.m.
Lunch Break
2:30–3:30 p.m.
Public Program
Katherine Alcauskas (Chazen Museum of Art at the University of Wisconsin–Madison)
The Assembly and Dispersal of an Exhibition: Indian Sculpture from the Collection of Mr. and Mrs. Earl Morse 
Monika Bincsik (Metropolitan Museum of Art, New York)
Captain Francis Brinkley and collecting Japanese ceramics in Meiji Japan
Lucie Chopard (Aix-Marseille Université )
The Parisian art dealers Auguste, Philippe and Otto Sichel: their strategy and supply (1870s-1890s)
Melodie Doumy (British Library)
Tracing the making of the Stein Dunhuang collection(s)
Patricia Ferguson (Independent Scholar)
Translocated from Java to Kirkcudbright: Ceramics for the Southeast Asian Market in the National Trust for Scotland
Ai Fukunaga (Museum of Fine Arts, Boston)
Hayashi Shinsuke: A Kyoto Dealer in East Asian 
Lyce Jankowski (Musée royal de Mariemont, Belgium)
Japanese or Chinese? Cases of Mistaken Provenance in Buddhist Art
Speaker Biographies
Qamar Adamjee is an art historian focusing on the visual and material cultures of South Asia and the Islamic world. Her research interests lie in objects produced in the interstices of distinct cultural traditions and on the artistic and intellectual worlds of the people who made or used them. Formerly a curator of Islamic and Indian art at the Asian Art Museum in San Francisco, Qamar is currently a provenance researcher for South Asian and Southeast Asian art at the Smithsonian's National Museum of Asian Art.
Dr. Naman P. Ahuja is professor of art history at Jawaharlal Nehru University and the general editor of Marg, India's leading publishing house dedicated to art and culture. As a writer and curator, Dr. Ahuja has deepened our understanding of Indian art from the perspectives of visual culture, aesthetics, iconography, and transculturalism. His writings have been translated into French, Spanish, and Dutch. He has curated some of the most important exhibitions of Indian art in the past ten years, including The Body in Indian Art & Thought, which was shown at the Palais des Beaux Arts in Brussels and the National Museum in Delhi in 2013, and India & The World, in which 120 objects from the British Museum were staged in strategic dialogue with Indian objects at the Chhatrapati Shivaji Maharaj Vastu Sangrahalaya in Mumbai and the National Museum in Delhi. The exhibitions have received critical acclaim for generating narratives of Indian history within a globalized world cognizant of issues of caste, gender, comparative religion, and decolonization.
Katherine Alcauskas is chief curator of the Chazen Museum of Art at the University of Wisconsin–Madison. She oversees provenance research for the museum's collection of over 24,000 objects spanning a variety of cultures and time periods. Previously, she was collections curator and exhibitions manager for the Ruth and Elmer Wellin Museum of Art at Hamilton College (Clinton, New York); collection specialist in the Department of Drawings & Prints at the Museum of Modern Art (New York, NY); and the Florence B. Selden Senior Curatorial Fellow in the Department of Prints, Drawings, and Photographs at the Yale University Art Gallery (New Haven, Connecticut). She holds a master's degree from the Williams College Graduate Program in the History of Art (Williamstown, Massachusetts), where she was awarded the Judith M. Lenett Fellowship, and a bachelor's from Wellesley College (Wellesley, MA), where she was awarded the Pamela Daniels Fellowship. She has recently curated the exhibitions Suzanne Caporael: The Nature of Things (2021), Michael Rakowitz: Nimrud (2020–21), and Theaters of Fiction (2019). She edited and contributed to the exhibition catalogue Michael Rakowitz: Nimrud (fall 2021), which was shortlisted for the College Art Association's Alfred H. Barr Jr. Award; authored the Wellin Museum's inaugural collections catalogue, Innovative Approaches, Honored Traditions: The Ruth and Elmer Wellin Museum of Art at Five Years, Highlights from the Permanent Collection (2017); and was a contributor to MoMA Highlights: 350 Works from the Museum of Modern Art (revised edition, 2013). She is currently planning a comprehensive reinstallation of the Chazen's permanent collection galleries.
Birgitta Augustin is Curator of Chinese art at the Museum für Asiatische Kunst, Staatliche Museen zu Berlin, where she is in charge of the arts from China from the Neolithic period to the end of the Qing dynasty. Previously, she was a J.S. Lee Memorial Fellow at the National Palace Museum, Taipei, the associate curator of Asian art and acting head of the Department of the Arts of Asia and the Islamic World at the Detroit Institute of Arts, and research associate in the Asian Art Department of the Metropolitan Museum of Art. Augustin received her PhD from the Institute of Fine Arts, New York University, with a research interest focusing on the history of Chinese painting and calligraphy. At the SMB, she is a contributing member of several task forces on provenance issues, including the SMB Directorate General Roundtable Provenance Research in archaeological Collections, and the SMB Consortium project 'Traces of the "Boxer War" in German Museum Collections.'
Antonia V. Bartoli is leading the Yale University Art Gallery's first comprehensive provenance research project. She specializes in the Nazi period and has lectured and published on topics that include the Italian art market during the Second World War and the spoliation of books, manuscripts, and fine and decorative art objects in Austria, France, Germany, Poland, and Ukraine. She was formerly spoliation curator at the British Library, London, and has worked as a provenance researcher for Christie's auction house and the Museum of Fine Arts, Boston, and as a consultant on behalf of families seeking to recover objects lost due to Nazi persecution.
Monika Bincsik, Diane and Arthur Abbey Curator for Japanese Decorative Arts, specializes in Japanese decorative arts and textiles. From 2008 to 2009 she was a Jane and Morgan Whitney Research Fellow at the Metropolitan Museum of Art. Later she worked as a research assistant at Ritsumeikan University in Kyoto, where she earned a second PhD on Japanese lacquers. From 2013 to 2015 she was an Andrew W. Mellon Curatorial Fellow at the Met and became assistant curator in 2015, then associate curator in 2018. She has organized numerous exhibitions for the museum, notably Kimono Style: The John C. Weber Collection (2022), Kyoto: Capital of Artistic Imagination (2019), Japanese Bamboo Art: The Abbey Collection (2017), and Discovering Japanese Art: American Collectors and the Met (2015). She has published extensively on Japanese decorative arts and collecting history, recently in Kimono Style: Edo Traditions to Modern Design (Metropolitan Museum of Art, New York, 2022) and The Tale of Genji: A Japanese Classic Illuminated (Metropolitan Museum of Art, New York, 2019).
Ricarda Brosch is an assistant curator at the Victoria & Albert Museum's Asia Department, East Asia section, where she is part of the China curatorial team. Prior to joining the V&A in 2019, Ricarda was a curatorial trainee at the Asian Art Museum in Berlin, where she assisted with the collection's move into the newly opened Humboldt Forum. She is also a current PhD candidate (part-time) at The Courtauld Institute of Art, where she is writing a dissertation about the architecture, art, and material culture of the western Qing tombs. Her PhD research includes in-depth provenance research into the looting of the western tombs by Western allies during the Boxer Uprising (1900–1901). Ricarda has worked on many issues relating to provenance of Chinese art and design, including the current work on Yuanmingyuan, the datafication of provenance information, and German-Jewish art historian emigree to the United Kingdom William Cohn. Prior to her PhD studies, Ricarda completed a BA in East Asian art history and China studies at the Freie University Berlin, and an MA at Peking University, followed by a second MA at The Courtauld Institute of Art.
Wen-chien Cheng received her PhD in art history with a specialty in Chinese painting at University of Michigan, Ann Arbor. At the Royal Ontario Museum (ROM), she cocurated Forbidden City: Inside the Court of China's Emperors (2014) and Gods in My Home: Chinese New Year with Ancestor Portraits and Deity Prints (2019–20). She was the main contributor to the catalogue accompanying the exhibition held in Berlin in 2017 and 2018, Faces of China: Chinese Portrait Painting of the Ming and Qing Dynasties. Her recent research focuses on the hybrid Chinese images of "foreign beauty" from the eighteenth to the nineteenth century and the early formation of the ROM Chinese collection. She is also developing a digital project of photographs of China taken during the Cultural Revolution in the 1970s.
Matt Cox is curator of Asian art provenance at the Art Gallery of New South Wales, where he is responsible for provenance research on the Asian collection and works closely with artists, curators, and academics to explore relationships between art history, provenance, and living communities. He completed a BA in Asian studies with a major in Indonesian studies (University of New South Wales), an MA in art history (University of Sydney), and a doctoral thesis titled "The Javanese Self in Portraiture from 1880 to 1955" at the University of Sydney, where he has taught subjects on modern and contemporary Asian art.
Mélodie Doumy has a BA in art history, anthropology, and archaeology and an MA in museum studies from Ecole du Louvre, as well as a degree in Chinese studies from the Institut national des langues et civilisations orientales (INALCO) and an MPhil in international relations from Cambridge University (England). She is lead curator of Chinese collections (Stein and Hoernle) at the British Library and manages the International Dunhuang Programme (IDP), a collaboration between institutions that hold materials from the Eastern Silk Road and share the vision of bringing these together digitally via an online platform.
Esther Tisa Francini is head of the archives and provenance research at the Museum Rietberg in Zurich, where she has worked since 2008. She studied history in Zurich and Paris and specialized in the history of museums, collecting, and the art market. She researched Switzerland's role during Second World War and Nazi-looted art. Today, her focus is on the coloniality of Swiss museum collections, biographies of objects, and a collaborative approach to provenance research. She has curated several exhibitions, including From Buddha to Picasso: The Collector Eduard von der Heydt (2013), Dada Africa: Dialogue with the Other (2016), The Question of Provenance: Unwrapping Collection History (2018–19), and, recently, Pathways of Art: How Objects Get to the Museum (2022–24). She is leading two research projects, the Benin Initiative Switzerland (2021–24) and a network research project on collectors (2023–24). Since 2001, she has been a member of the international Association for Provenance Research.
Patricia F. Ferguson was a project curator at the British Museum from 2017 until 2020, focusing on European ceramics, and edited Pots, Prints, and Politics: Ceramics with an Agenda, from the 14th to the 20th Century (2021). Between 2006 and 2017, she was a consulting curator in the Asian and Ceramics Departments of the Victoria and Albert Museum. As Honorary Adviser on Ceramics to the National Trust, she published Ceramics: 400 Years of British Collecting in 100 Masterpieces (2016) and Garnitures: Vase Sets from National Trust Houses (2016). Patricia has an MA from SOAS, University of London.
Paul Franke is a historian at the Phillips-University Marburg and associated researcher at the Centre Marc Bloch in Berlin. His research focuses on the history of illegal economies, the history of gambling, and the history of consumption, in an effort to bridge cultural and economic history. He is currently working on his second book, A Global History of the Illegal Art and Antiquities Trade 1890-1990. He holds a PhD from the Humboldt University of Berlin, was an Eadington Fellow at the International Gaming Research Center (University of Nevada, Las Vegas), and was a visiting researcher at the University of California, Berkeley. He has published several articles on the link between urban development, consumption, and the history of capitalism, as well as the German art market and its incorporation of illicit practices.
Tullia Catriona Fraser is a second-year collaborative doctoral award PhD student based at the University of Glasgow and National Museums Scotland. Her PhD research addresses the growing presence of Chinese material culture in Scotland in the late nineteenth to early twentieth century, a time of indubitably rapid British imperial expansion. With a focus on collecting sources, practices, and diachronic and interpretive changes, it seeks to be the first project to address the complexities of the Scottish collection and interpretation of Chinese material culture, the effects of which continue to be felt in the Scottish museums that house these collections today. She gained a BA (Hons) in archaeology from Durham University (United Kingdom) in 2019, focusing on the transnational networks of collector-dealers of Chinese antiquities in the early Republican period; and an MA in museum and artefact studies from Durham University in 2020. In 2022, she completed a Doctoral Training Partnership provenance research project at the Victoria & Albert Museum (UK), focusing on the V&A's acquisition of East Asian objects from minor dealers between 1852 and 1911. She has also held positions at Liang Yi Museum and the University Museum and Art Gallery, The University of Hong Kong.
Dr. Ai Fukunaga is the Ishibashi Foundation Assistant Curator for Japanese Art at the Museum of Fine Arts, Boston. She received a BA from International Christian University, Tokyo. She also holds an MA from Gakushuin University, Tokyo, and an MA and PhD in the history of art and archaeology (2021) from SOAS, University of London. She was an assistant curator of the Okada Museum of Art, Hakone, for three years and was responsible for the East Asian ceramic collection until 2014. For her PhD project, she researched and catalogued Japanese ceramics collections and archives at the British Museum, London, and Maidstone Museum, Kent. At the Museum of Fine Arts, Boston, she has been working on the Japanese ceramics collection and archives of Edward Sylvester Morse (1838–1925). She approaches provenance studies as a tool to tell multicultural stories of traveling objects from one place and time to another. Her recent publications include: "British Collecting of Ceramics for Tea Gatherings from Meiji Japan: British Museum and Maidstone Museum Collections" (PhD thesis, SOAS University of London, 2021); "Tourism and Collecting in Kyoto: The Miyako Hotel as an Agent in the Creation of the Hon. Henry Marsham Collection of Japanese Art, Maidstone Museum, Kent" in the Journal for Art Market Studies vol. 2, no. 3 (September 5, 2018); and "Furanshisu Burinkurī to Bosuton bijutsukan Nihon tōji korekushon [Francis Brinkley and the Japanese Ceramics Collection at the Museum of Fine Arts, Boston]" in The Journal of Kanda University of International Studies 15 (March 2023).
Joanna M. Gohmann leads the provenance program at the Smithsonian's National Museum of Asian Art (NMAA). In addition to conducting provenance research across collection areas, she coordinates NMAA's ongoing collaboration with the Prussian Cultural Heritage Foundation's Museum of Asian Art and Central Archives, co-organizing opportunities for research exchange, most notably the webinar series Hidden Networks: The Trade of Asian Art (2020–22). Gohmann works to integrate provenance stories into NMAA's web presence and gallery installations; her work can be seen in the exhibition Freer's Global Network: Artists, Collectors, Dealers, which explores the many influences that shaped how museum founder Charles Lang Freer collected art. Gohmann holds a PhD in the history of art from the University of North Carolina at Chapel Hill. She is particularly interested in the histories of collecting and the market for Asian art in eighteenth- and nineteenth-century France. She has held positions at the Walters Art Museum, the Offices of Historic Alexandria, the Ackland Art Museum, and the National Gallery of Art.
Markéta Hánová received an MA (2001) in Japanese studies in the Institute of Asian Studies at Charles University and a PhD in art history (2008) from Charles University in Prague, Czech Republic. She became a curator of Japanese Art (2000–2012), and since 2012 she has been the head of the Collection of Asian Art at Prague ̓s National Gallery (NGP). Her research focuses on Japanese painting, ukiyo-e prints, Japanese Buddhist art, Japonisme, and the history and provenance of Asian collections in the Czech Republic.
Christine Howald, PhD in history, is deputy director of the Zentralarchiv (Central Archive) and provenance researcher for the Asia collections at the Staatliche Museen zu Berlin (National Museums in Berlin). Her projects focus on the European market for East Asian art and colonial withdrawal contexts in Asia in the nineteenth and twentieth centuries. She has published widely and is coeditor of two issues of the Journal for Art Market Studies, "Asian Art: Markets, Provenance, History" (vol. 2, no. 3, 2018) and "Asian Art: The Formation of Collections" (vol. 4, no. 2, 2020). From 2020 to 2022, Howald co-organized the webinar series Hidden Networks: The Trade of Asian Art. Amongst others, she currently leads the research project "Tracing Boxer Loot in German Museums," a cooperative project of seven German museums together with the Palace Museum Peking.
Lyce Jankowski holds a PhD (2012) in art history from the Paris-Sorbonne University. She is the curator of extra-European art at the Royal Museum of Mariemont (Belgium) and was previously in charge of the East Asian coin collection at the Ashmolean Museum, Oxford, and taught East Asian art history at Paris-Sorbonne University and Paris-University. Her book Les Amis des monnaies – La sociabilité savante des collectionneurs et numismates chinois de la fin des Qing (Paris, 2018) explores the complex social network that linked coin collectors, antique dealers, rubbing makers, and forgers in China during the first half of the nineteenth century. Her current research interest focuses on the history of collections and the commodification of East Asian art in Belgium in the nineteenth and twentieth centuries. Some of her results were published in the article "Collectionner les vases chinois en bronze au début du 20e siècle" (Cahiers de Mariemont, 2020). She is currently reassessing the provenance of the Buddhist art collection of the Royal Museum of Mariemont and recently curated the exhibition Women of China. A 20th-century journey (2022). Her last publication, The Social Lives of Chinese Objects, coedited with Alice Bianchi, applies Arjun Appadurai's well-known argument on the social life of things to the discussion of artifacts made in China (Brill, 2023).
Sarah Laursen is the Alan J. Dworsky Associate Curator of Chinese Art at the Harvard Art Museums and oversees the Chinese art collection as well as parts of the Korean and Central, South, and Southeast Asian collections. She is a specialist in early medieval China, and her research interests include Chinese archaeology, digital humanities, technical art history, collecting history, and contemporary Asian and Asian American art. She cocurated Earthly Delights: 6,000 Years of Asian Ceramics (summer 2022), and she curated Objects of Addiction: Opium, Empire, and the Chinese Art Trade (fall 2023). She worked with students to develop the virtual exhibition Reframing Tianlongshan.
Henriette Lavaulx-Vrécourt works as curator for the East- and North-Asian Department, Ethnologisches Museum, Staatliche Museen zu Berlin, Preußischer Kulturbesitz. Her first degree was an MA in social anthropology at the University in Göttingen in 1996. She obtained a second MA in visual anthropology from the Granada Centre for Visual Anthropology, University of Manchester, in 2002. She did ethnographic field studies in Nepal, Ladakh, Bhutan, and China. In the Ethnological Museum's new presentations at the Humboldt Forum, she is cocurating the Himalayan Art and Culture Gallery, as well as the temporary exhibition space Encounters. Works from Africa, Asia and Europe. One of her recent papers is "Berlin Battle Engravings – 34 Copperplates for the Emperors of China."
Kexin Ma is a PhD candidate from the Department of History of Art and Archaeology at SOAS University of London. She has recently submitted her thesis on the Guwan tu handscrolls and practices of illusionism at the Qing Yongzheng court. Primarily interested in visual and material cultures of Ming–Qing China, Kexin has presented relevant research through journal and conference papers that draw attention to art's agency across media and the itineraries of objects and images. Alongside her academic pursuits, Kexin has also worked as a curatorial and an editorial assistant in Orientations Magazine Ltd., the OCAT Institute, and the National Gallery of Prague.
Since 2012, Sonya Rhie Mace has overseen the collections of Indian, Southeast Asian, and Himalayan art at the Cleveland Museum of Art and has taught classes as adjunct professor of art history at Case Western Reserve University. From 2004 to 2012, she served as the curator of Asian art at the San Diego Museum of Art. Her recent exhibitions include Art and Stories of Mughal India (2016), Beyond Angkor: Cambodian Sculpture from Banteay Chhmar (2017–18), and Revealing Krishna: Journey to Cambodia's Sacred Mountain (2021–22). She received her PhD in Indian and Southeast Asian art from Harvard University in 1999.
Professor Doctor Hermann Parzinger studied archaeology and history. After his doctoral degree in prehistory, he worked as an associate professor at Munich University. In 1990, he was appointed director of the German Archaeological Institute and in 2003 became president of the institute. In this capacity, he headed various archaeological research projects in Spain, Turkey, Siberia, Kazakhstan, Uzbekistan, Tajikistan, and Iran in close cooperation with local research institutions. Presently, he is professor of prehistory at the Free University in Berlin, and since 2008 he has served as president of the Stiftung Preußischer Kulturbesitz (Prussian Cultural Heritage Foundation) and in this function also supervises the Humboldt Forum. He received the Leibniz Award and several other prizes for his research, and he is a member of numerous academies in Russia, China, Spain, the United Kingdom, Romania, the United States, and Germany. Over the course of his career, he has written fifteen books and over 250 essays on many different subjects; recently, his publications focus on issues of academic and cultural policy.
Chase F. Robinson has been the Dame Jillian Sackler Director of the Arthur M. Sackler Gallery and Freer Gallery of Art, the Smithsonian's National Museum of Asian Art, since December 2018. A highly regarded scholar of Middle Eastern history and culture, he previously held senior leadership roles at the Graduate Center of the City University of New York, serving first as provost and then as president from 2008 to 2018. From 1993 to 2008, Robinson taught Islamic history and culture at the University of Oxford, chairing its Faculty Board of Oriental Studies from 2003 to 2005. He has authored or edited nine books and more than forty articles that span the geographical and chronological breadth of the pre- and early modern Islamic Middle East. Robinson earned his bachelor's degree from Brown University and his doctorate from Harvard University's Department of Near Eastern Languages and Civilizations. He is the general editor of Cambridge Studies in Islamic Civilization and a member of the editorial board of Past & Present. His editorials and commentaries have appeared in several magazines and newspapers.
Malini Roy is the head of visual arts at the British Library (London) and is responsible for South Asian visual materials as well as British photography. She received her PhD in the history of art from the School of Oriental and African Studies (SOAS) University of London. Her publications have focused mainly on later Mughal paintings. She curated and authored 50 × India: The 50 Most Beautiful Miniatures from the Rijksmuseum (Amsterdam, 2008), and she curated Mughal India: Art, Culture and Empire and co-authored the accompanying publication with J.P. Losty (British Library, 2012). Her most recent project is the British Library's Animals: Art, Science and Sound exhibition and the accompanying publication (2023), cocurated with Cam Sharp Jones and Cheryl Tipp.
Melody Rod-ari received her PhD in art history from the University of California, Los Angeles. Currently, she is associate professor and chair of art history at Loyola Marymount University. She is also the Southeast Asian content editor for Smarthistory, as well as an active curator who has organized exhibitions and permanent galleries for the Norton Simon Museum and the University of Southern California Pacific Asia Museum. Her research investigates Buddhist visual culture in Thailand and the history of collecting South Asian and Southeast Asian art in America. Her work has been published by various journals and university presses, including Amerasia Journal and the NUS Press.
Isabel Seliger studied East Asian languages and literature (Japanese) with an interdisciplinary focus on Japanese art history, early Buddhist sculpture, classical Chinese language, and studio art at Free University, Berlin; Keiō University, Tokyo; and the University of Hawai'i at Mānoa, Honolulu. From 2002 to 2004 she was Andrew W. Mellon Postdoctoral Fellow in East Asian Studies at Brandeis University in Waltham, Massachusetts. Research interests include (East) Asian aesthetics, the history of concept and discipline formation, colonial contact history, and postcolonial theory.
Alisha Sijapati recently completed her MA in cultural heritage studies at Central European University with a thesis titled "Documentation and Preservation of Trafficked Artefacts of Nepal's Cultural Properties: Decoding Policies to Preserve Intangible Heritage in Nepali Society." She has served as the heritage campaign director of the Nepal Heritage Recovery Campaign since its launch in 2020.
Dr. Emiline Smith is a Lecturer in criminology at the Scottish Centre for Crime and Justice Research, University of Glasgow (UK). Emiline is a Fellow at the Centre for Criminology, Hong Kong University, and a member of the Trafficking Culture Research Consortium and the Global Initiative Against Transnational Organized Crime. Her research focuses on the trafficking of cultural and natural resources primarily in, to, and from Asia, and their securitization and repatriation. She just launched a trilingual storybook titled Pema and the Stolen Statue from Dolpa.
Nataša Vampelj Suhadolnik is a professor in the Department of Asian Studies, Faculty of Arts, University of Ljubljana, Slovenia. She received her PhD from the University of Ljubljana (2006). Her research areas include East Asian material culture and collecting history in Slovenia, traditional and modern Chinese art, Chinese funerary art, and Chinese Buddhist art. Suhadolnik currently leads the national project Orphaned Objects: Examining East Asian Objects outside Organised Collecting Practices in Slovenia (2021–2024). Prior to that, she led the national project East Asian Collections in Slovenia (2018–2022), through which a website and a database of East Asian objects in Slovenia were set up. The project team for the website won the 2020 Prometheus of Science Award for Excellence in Science Communication, awarded by the Slovene Science Foundation. She also led the Faculty of Arts project team that collaborated on the international project PAGODE – Europeana China, cofinanced by the European Union under the CEF Connecting Europe Facility Programme. The PAGODE project aimed to digitize and present Chinese heritage in the European digital library Europeana. Suhadolnik is also the initiator, cofounder, and first president of the European Association for Asian Art and Archaeology (EAAA).
Edmond de Taillac is a graduate student in the History Department of the École normale supérieure (ENS-PSL) in Paris. Trained in history and art history at the Pluridisciplinary Cycle for Undergraduate Studies at Paris Sciences et Lettres (CPES-PSL), he dedicated his bachelor's thesis to Gabriel Jouveau-Dubreuil's trade network and his strategies to acquire artefacts in South India. He is currently working under the supervision of Professor Charlotte Guichard and Professor Charlotte Schmid at the Master d'histoire transnationale at the ENS-PSL, where he is expanding his first research to reconstruct C.T. Loo's South Asian art trade network.
Erin L. Thompson holds a PhD in art history and a JD, both from Columbia University, and is a professor at John Jay College (City University of New York) studying the black market for cultural heritage. She is a member of the Advisory Committee for the Nepal Heritage Recovery Campaign and has written frequently about legal and historical aspects of cultural heritage repatriation for both scholarly and general audiences, including for Hyperallergic, The New York Times, London Review of Books, and Foreign Policy.
Laura Vigo is curator of Asian arts at the Montreal Museum of Fine Arts (MMFA) and curator-at-large for the Museum of Asian Art (MAO) in Turin, Italy, where she has recently cocurated the show Buddha10: A Fragmented Display on Buddhist Visual Evolution (2022–23). In Montreal, she is currently working on the forthcoming textile cabinet for the MMFA historic collection. Recently, she has been responsible for the permanent galleries for the arts of Asia in the Arts of One World wing at the MMFA as well as the adaptation of the temporary exhibition Obsession: Sir William Van Horne's Japanese Ceramics (2019). She received her doctoral degree in Chinese archaeology from the School of Oriental and African Studies (SOAS) University of London in 2004. Before moving to Montreal, she worked as a consultant for private galleries and cultural organizations in Europe and as an assistant curator at the Edoardo Chiossone Museum of Oriental Art in Genoa. Her most recent research focuses on how the Western colonial gaze perceived, consumed, and distilled Chinese art.
Ji Young Park is the National Museum of Korea Fellow of Korean Art at the Denver Art Museum. After receiving her PhD in museum studies from the Ecole du Louvre, the Université d'Avignon, and the Université du Québec à Montréal in 2017, she has worked as a research associate in the translocations cluster at Technische Universität Berlin in Germany. Her area of expertise lies in art history and museology, focusing on Asian art historical knowledge communication in museum spaces. Her research interests center around museum exhibitions of foreign cultures with displaced objects due to global power imbalances and how they are perceived by society.