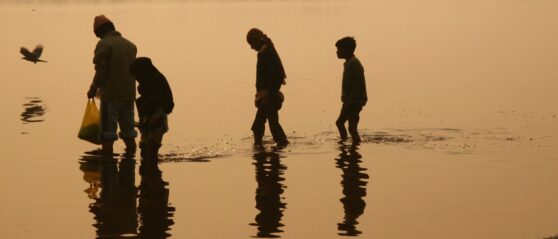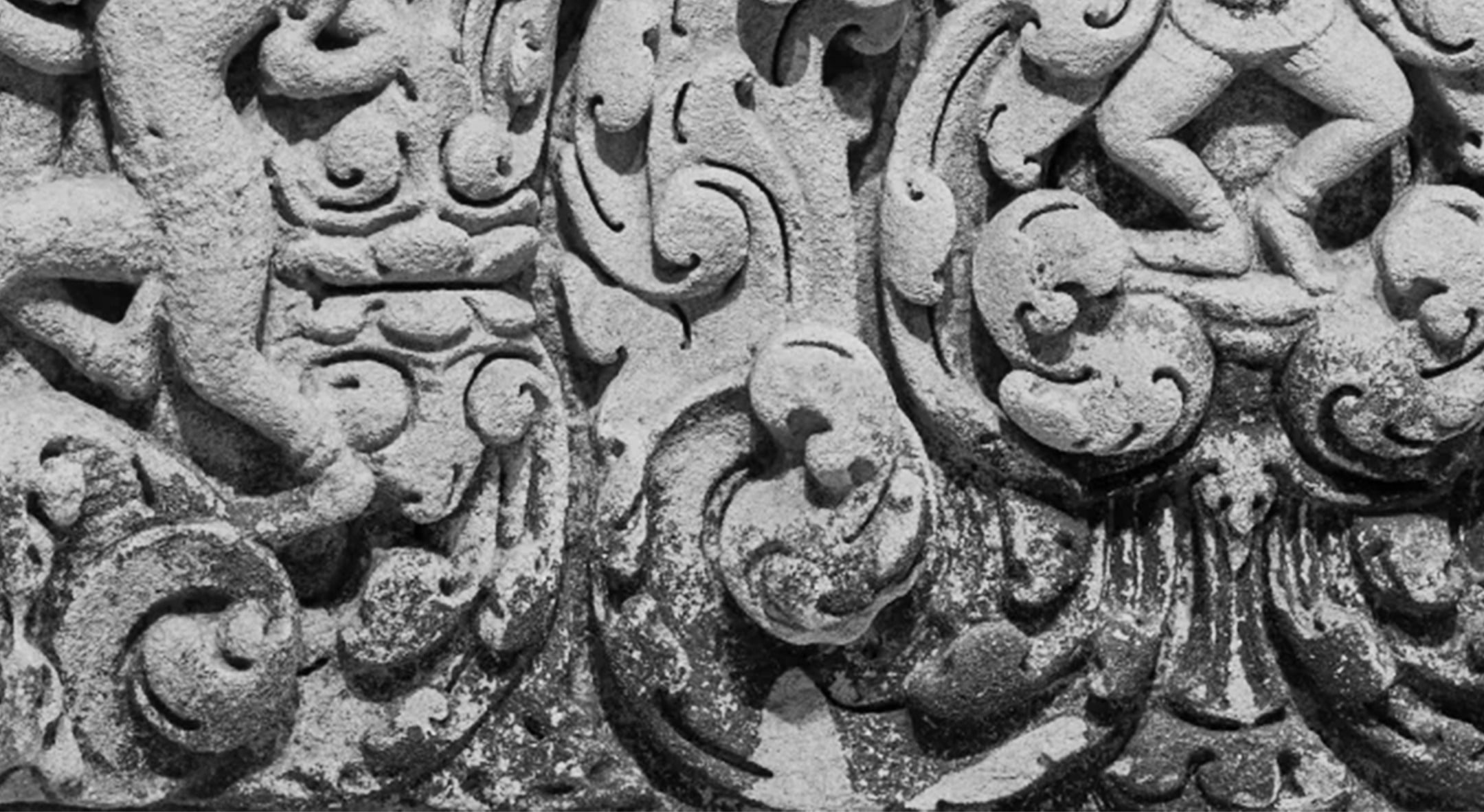 Unstill Waters: Contemporary Photography from India  foregrounds landscapes of India, real and reimagined, as powerful means of examining environmental and social issues concerning us all. Through still and moving image, seriality, and portraiture, five leading contemporary artists explore rapidly changing natural and built environments in India, from riverbanks, ancient forests, and city streets to surreal symbolic settings.
Ravi Agarwal and Atul Bhalla convey the profound importance of water in human life, highlighting enduring social and cultural connections to the sacred yet endangered Yamuna River. Gigi Scaria and Ketaki Sheth produce dynamic and disorienting portrayals of life in New Delhi and Mumbai. Sheba Chhachhi composes a provocative self-portrait that evokes a profound relationship to place as well as to her own focus on the representation of women in visual culture. Dynamic and varied in scale, format, and content, Unstill Waters also celebrates the spectacular recent gift of Sunanda and Umesh Gaur, which significantly expands the museum's holdings of South Asian photography.
Shot over a period of eighteen months, The Sewage Pond's Memoir gently envelops the viewer in a wild, dark forest located at one end of the ancient Aravalli mountain range in western India. A memory of drawing water from a well is sparingly recounted. Misty light filters through a subtly unsettling environment of broken branches and reflects off the surface of murky streams. Referred to as "Delhi's green lungs," this forest that once fed the growing metropolis is being overtaken by sewage, trash, and construction creeping in along its edges. The forest has been an enduring source of Ravi Agarwal's reflections on nature, tradition, and progress.
The Sewage Pond's Memoir
Ravi Agarwal (b. 1958, India)
2011–17
Single-channel video with sound
Courtesy of the artist, © Ravi Agarwal
ELS2022.7.1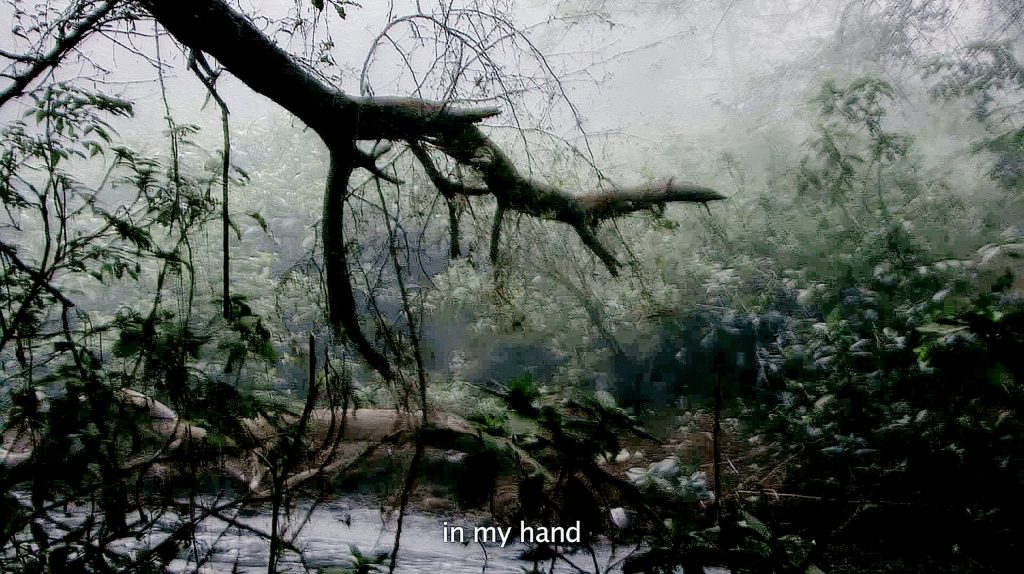 Based in New Delhi, Ravi Agarwal is a multidisciplinary artist driven by an unwavering focus on the impact urbanization has had on India's riverine landscape and on its ways of life. In 2007, Agarwal created a series of installations and photographs calling attention to the disastrous consequences of construction along the Yamuna River. In a related text titled Have You Seen the Flowers on the River? he wrote:
The sandy banks are being impaled by steel and pounded by massive mechanical hammers. Water needs no violence. It quietly accommodates and flows around—when it is allowed to. The concrete will make it impossible for the water to sink into the ground, or to bring fertile soil onto its banks.
The river yields its land to the concrete. It will wait till this too has passed. As mountains have become valleys and deserts turned into marshes, what then of mere manmade metal? Or of man. Or is it different this time? Is it the final battle—of man and nature?
Riverbank I
Ravi Agarwal (b. 1958, India)
2007
Inkjet print on paper
Gift of Drs. Umesh and Sunanda Gaur, © Ravi Agarwal
S2019.6.4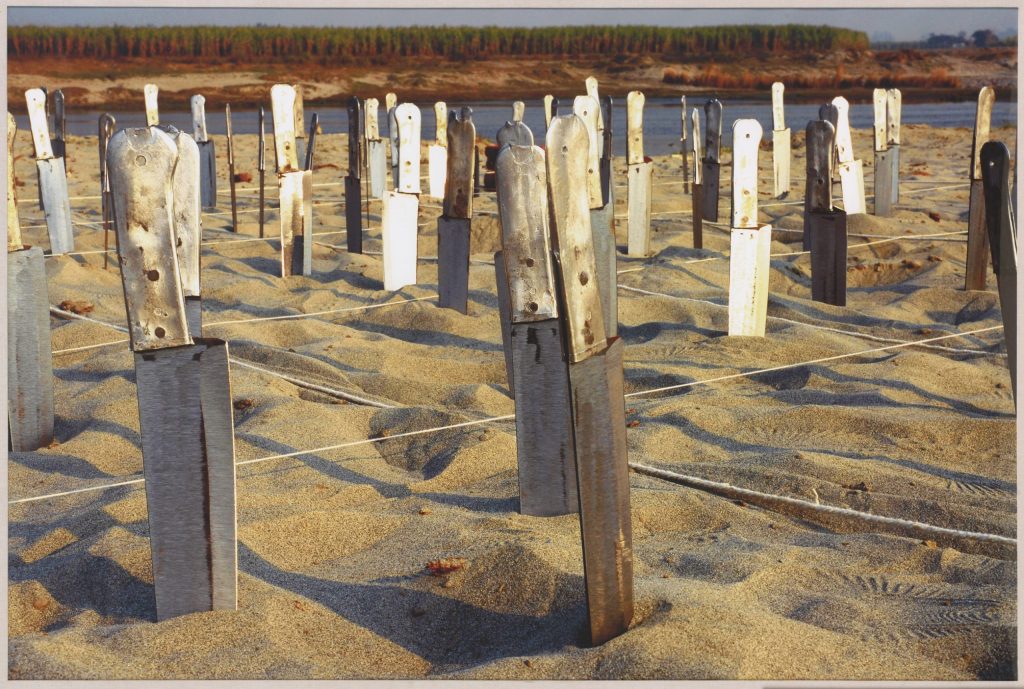 A tributary of the Ganges, the Yamuna River is a sacred site for Hindus, many of whom seek to purify themselves by drinking or bathing in its waters. Much of Atul Bhalla's early practice is grounded in prolonged physical interaction with the river and in exploring its symbolic and practical significance. This sequence of images documents figures silhouetted against the early morning sky as they hunt for coins left as offerings to the river's goddess namesake and then convene to examine their haul. Watching the coin gatherers in the light of dawn, Bhalla offers a meditation on the sacred waterway and its ongoing cycle of life.
Yamuna Morning IV
Atul Bhalla (b. 1964, India)
2007
Inkjet print on archival Hahnemüle paper
Gift of Drs. Umesh and Sunanda Gaur, Courtesy of the Artist and sepiaEYE
S2019.6.6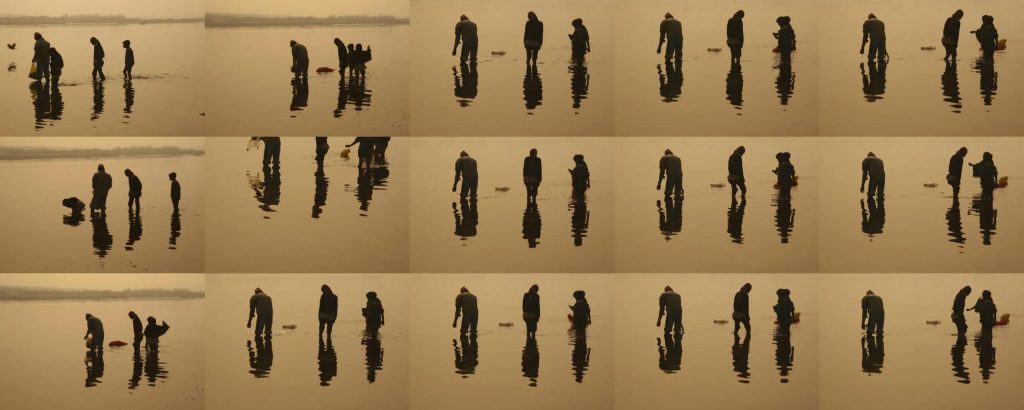 A girl perched on a man's shoulders meets the gaze of the Hindu god Ganesh, photographed on the last day of a popular festival when enormous crowds of devotees process to the Girgaon Chowpatty beach in Mumbai. During the festival, an image of Ganesh is carried aloft through the city and then immersed in the sea, signifying purification and the return of the god to his divine home. Angling her camera high, Sheth cuts through the commotion to isolate two figures against the cloudy sky. Throughout the Bombay Mix series, she employs dynamic perspectives and rich contrasts to capture the sense of quiet surprise and discovery in the densely populated city.
Girl at Ganpati immersion, Chowpatty, from the series Bombay Mix
Ketaki Sheth (b. 1957, India)
2002
Silver gelatin print
Gift of Drs. Umesh and Sunanda Gaur
S2019.6.32
Portrait of Falak is a masterful work of street photography from Ketaki Sheth's series Bombay Mix. A young child named Falak appears finely dressed on a doorstep and presents a contrast to the two figures behind her. While her youthful countenance sets her apart from the bored woman on the left, her still and thoughtful demeanor is a foil to the smiling girl in an excitable blur of motion on the right. With characteristic sensitivity, Sheth distills the clamor of an exploding city into incidental moments of moods and gestures.
Portrait of Falak, from the series Bombay Mix
Ketaki Sheth (b. 1957, India)
1990
Silver gelatin print
Gift of Drs. Umesh and Sunanda Gaur
S2019.6.31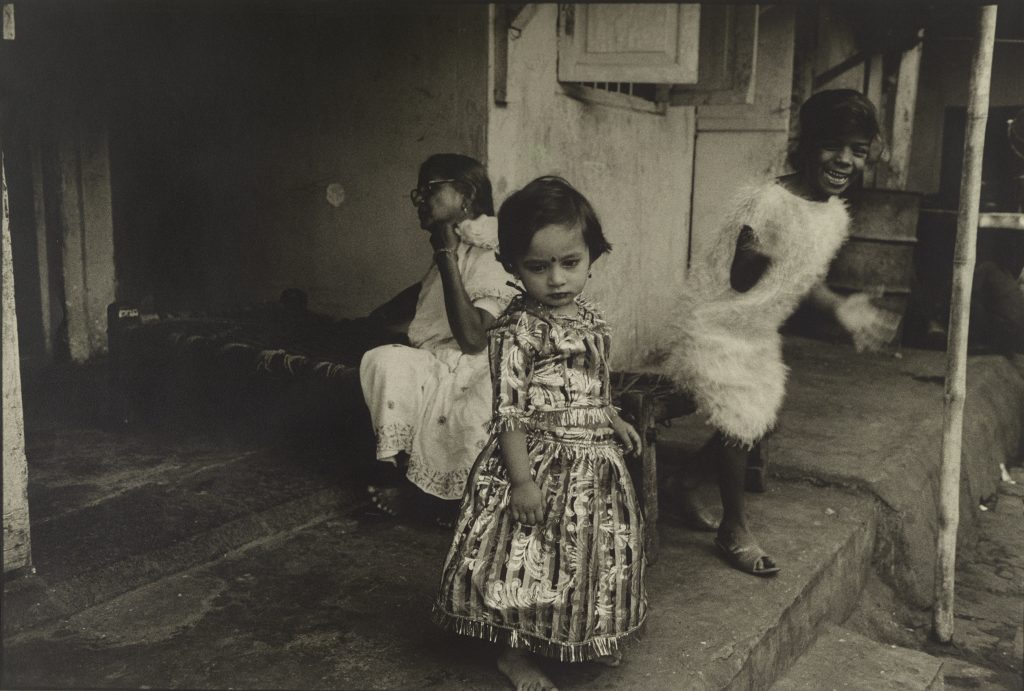 Earth, river, and mountains meld with faces and bodies in this imaginative self-portrayal by Sheba Chhachhi. In the desert tones of a barren landscape, a deep-red winged creature bearing the artist's face flies toward an assembly of nude figures in a formation reminiscent of temple architecture. A second enlarged self-portrait is overlaid sideways across the foreground as if shaped by the very earth below. Collapsing the human and non-human while alluding to the spiritual, Chhachhi invites us to reflect on our deep connection to the environment and our manifold relationship to nature.
Untitled
Sheba Chhachhi (b. 1958, Ethiopia)
2007
Archival print
Gift of Drs. Umesh and Sunanda Gaur, © Sheba Chhachhi
S2019.6.10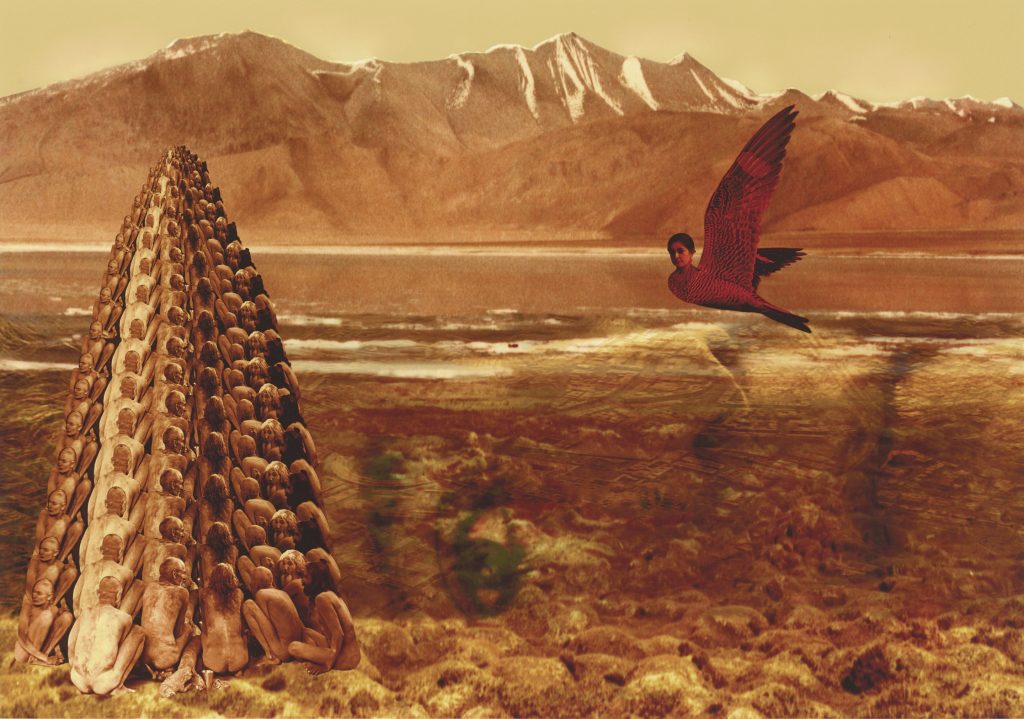 In City Uprise, Gigi Scaria focuses on architecture to explore the human impact of rapid and relentless urban change in India's capital region. The work comprises a series of shots taken by the artist, who is originally from a southern Indian village, as he ascended the famous Agrasen Ki Baoli stepwell in New Delhi. Beyond a wall of the historic structure, a cluster of modern high-rise buildings appears to emerge organically from the ground. With the stepwell forming a boundary between the viewer and a fugitive, constantly changing horizon, Scaria reflects on the sense of alienation and instability encountered by many on the margins of city life.
City Uprise
Gigi Scaria (b. 1973, India)
2006
Inkjet print on paper
Gift of Drs. Umesh and Sunanda Gaur
S2019.6.11
For this series of photographs, Atul Bhalla follows the Yamuna River into Delhi. Drinking fountains, or piaus, were a free public resource that once channeled clean water from the river to all inhabitants of the city. Such fountains can still be found mainly in the lower-income and communal spaces of Old Delhi. Piaus I focuses on the spigots that now draw from the severely polluted river, which has been compromised by years of sewage and chemical contamination. Vivid colors and patterned surfaces throw into relief the grimy, deteriorated condition of the fountains. Arranged in a large grid of twenty images, Bhalla's work suggests widespread socioeconomic inequalities precipitated by both neglected infrastructure and the defilement of nature.
Piaus I
Atul Bhalla (b. 1964, India)
2006
Inkjet prints on archival Hahnemüle paper
Gift of Drs. Umesh and Sunanda Gaur, Courtesy of the Artist and sepiaEYE
S2019.6.7.1–20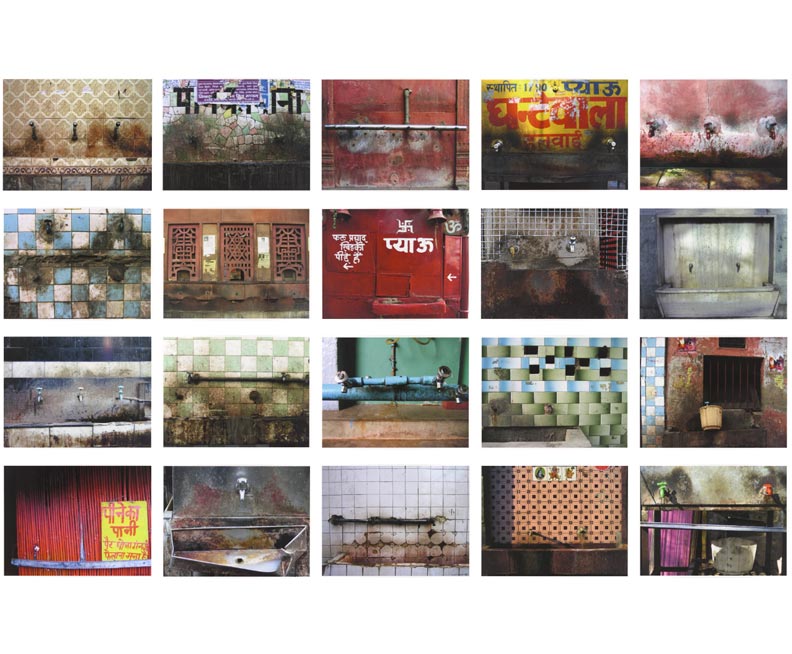 Yamuna Morning IV (detail), Atul Bhalla (b. 1964, India), 2007, Inkjet print on archival Hahnemüle paper, Gift of Drs. Umesh and Sunanda Gaur, S2019.6.6